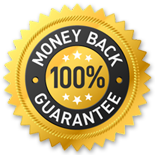 30 Day 100% Money Back Guarantee
If you are unhappy with your purchase for any reason at all, you can get a full refund within 30 days of your purchase.
We're offering this to completely eliminate the risk on your part. If you are unsure about this product, you can rest assured that your expectations will either be exceeded, or you can get your money back.
We've put our best effort into making this product as useful and valuable to you as possible and we feel absolutely confident that you will be happy with your purchase.