Rules and Requirements
We have some basic requirements for our affiliate program:
You must have a PayPal account to receive your commission payments (if you don't have one yet, you can sign up here for free).
You are only allowed to use legal, ethical methods to promote our products. This basically means: no spamming and no trying to cheat the system to get commissions.
You are not credited if you try to make a purchase of one of our products through your own affiliate link.
Participants caught violating or attempting to circumvent these rules will have all affiliate credit voided and will not receive payouts. Additionally, they will be banned from further participation in our affiliate program.
Just play fair and be awesome and you'll get nothing but payment after payment after payment from us.
Ready to join?
Signing up and getting your account configured couldn't be easier. You can be referring business our way in as little as five minutes.
Take a Look Inside the Affiliate Dashboard: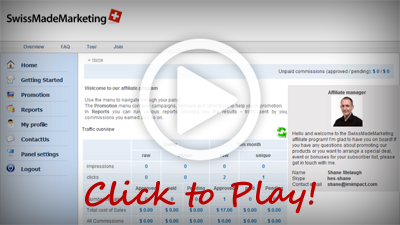 Why SwissMadeMarketing will make you more money than any other affiliate program:
The SwissMadeMarketing affiliate program is based on one simple concept: What's good for our affiliates is good for us, as vendors. Based on this, the entire program is geared to be as useful and profitable for you as possible.
For any lead you send us, you get lifetime commissions on any purchase they make of any one of our products at any time.
This means that it's absolutely possible that you send one promotional e-mail to your list and keep getting paid months and years from now, from just that one single promotion. It's only fair, since you sent those leads our way.