In the last post we showed you how, using clever Google search requests and our tool «Backlink Spy», you can quickly find websites, that publish guest posts on your niche topic. In today's article we will show you a completely different technique, which can be made even more effective using «Backlink Spy».
Technique 2: Help fix 404 links
Have you ever come across this situation? You are on a website and find an interesting link. You click it - but it only opens a 404 page with a message, telling you that the selected page no longer exists.
What's annoying and disappointing for visitors, could be a great opportunity for SEO experts. Because if the missing page fits your niche topic, you can just send the website owner a message and let them know, that you've found a defective link on their website. To help him fix the link, you offer him a link to your own website or your own blog article, that fits to the topic of the defective link. Then you have created a win-win situation: Webmasters are generally grateful for such messages, since 404 error messages are not exactly popular. And you receive a new backlink.
Expert-Tip: Finding 404 links that fit your niche
This is how SEO expert Brian Dean does it: He looks for good resource websites for his niche, i.e. sites with link collections no a specific topic. Then he checks all of the links and looks for the defective 404 links. Now instead of simply fixing the link, he searches for all the backlinks that point to this defective link, using «Backlink Spy». By doing this, he can of course find a lot more defective backlinks. Here is the detailled step by step guide:
Step 1:
First, we search for resource website using Google, by trying out the following search queries:
"Your Keyword" + "Resources"
"Your Keyword" + "helpful resources"
"Your Keyword" + "Link list"
ect.
Step 2 (optional):
In order to test the resource page for broken links before analysing them with «Backlink Spy», Brian uses the free Google Chrome extension "Check my links". With this tool, you can test all outgoing links (outbound links) on a webpage to see whether they are working or not. If the website contains defective 404 links, it is worth it to continue working with the resource page in «Backlink Spy».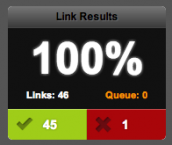 Step 3:
We copy the URL of a good resource page and use it to execute a «Simple Search» in «Backlink Spy». As soon as the URL has been analyzed, click on «Outbound Links» further back in the row. The list that then opens will show you all the outgoing links, i.e. the ones on the resource page that show to other websites.
Step 4:
In order to find out, which of these links are defective, analyze all of the outbound links by clicking above on the button «New Search with all Outbound-Links» and start another «Simple Search».
Step 5:
Then sort the new results using the column «Status Code» to find the defective links with the error code 404. To do that, click on the right of the column title «Status Code» onto the little arrow, then move your mouse over the entry «Filters» and type into the field with the '=' symbol the number 404.
Now, mark the filtered results, and click on «Expand» - «Expand from Urls» in the toolbar. With this search it is now important to do a «Recursive Search». Then Backlink Spy will search for all of the backlinks for each of these invalid URLs, that point to this 404 page.
Et voilà. Now you have a complete list of websites before you, that each contain an invalid link to a page that no longer exists - and that has to do with your nice. Now all you have to do is contact the administrators of the valuable websites (high Moz-Rank and Domain-Authority) and tell them that you've found a defective link on their website. And that's why, in order to fix it, you are sending them a working link to a similar article (which, of course, is on your own website).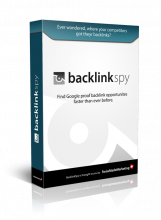 Backlink Spy - Spy on your competition!
Up until now it was often cumbersome to find (high quality) backlinks of your competitors. That's why we created Backlink Spy. This tool allows you to find and analyse all the backlinks of a URL. This is probably the fastest way to find awesome backlinks for your own website.