The ingenious filter function of SECockpit has always been one of the key features of the tool, because with it you can filter out the truly relevant keywords in a very simple and efficient way, which isn't possible with most other softwares. But we asked ourselves: How can we make something good even better? Based on feedback from our loyal customers, you can now benefit from an update that will make your daily work with SECockpit even more efficient: Now you can save your favorite settings and apply filters to new keyword lists with just one click.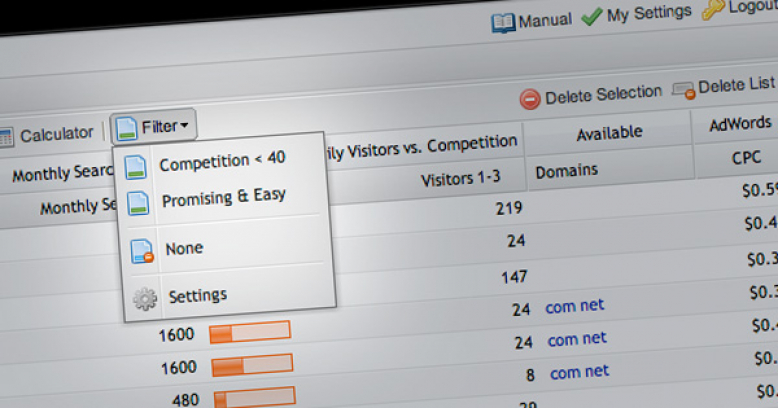 How To Create Filter Profiles:
1. Opening the settings window
As of now, you can find a new button with a cogwheel-icon in the keyword module in SECockpit. Clicking on this icon will open a window where you can create and manage your profiles and filters. You can also get to this window when you open a keyword list: Click on the "Filter" button in the menu above the list, then on "Settings".
2. Creating a new filter profile
Now click on "Add". Give your filter profile a name, and click above on "Save" (without closing the window). It will now load the filtering options in the bottom part of the window. Here you will find a corresponding entry for every column in the keyword list of SECockpit. By doubleclicking on a line, for example on "Monthly searches", you can now select the desired filter setting. In the pictured example I have defined that the number of monthly searches must be greater than 300. Confirm with "Save and Close" and do the same thing for all the filter options that you want to define. When you are done, confirm again with "Save and Close".
3. Applying filter profiles
Once you've created a filter profile, you can apply it to your keyword list. Open a keyword list and click on "Filter" in the menu above the list. Your filtering profiles will now appear in the dropdown (see picture, blue outline; the profiles on the picture are only an example). By clicking on a profile the saved filter settings will be applied to your keyword list automatically.
It's that simple! Now we hope you have fun creating your own filtering profiles, and wish you continued success in finding valuable keywords.
Your SwissMadeMarketing Team