Today we're proud to announce the main winners of our January Affiliate Contest!
Congratulations to Matt C. from New Zealand (1st Place), Michael H. from England (2nd Place) and Moritz F. from Germany (3rd Place)! You generated the most new sales in January!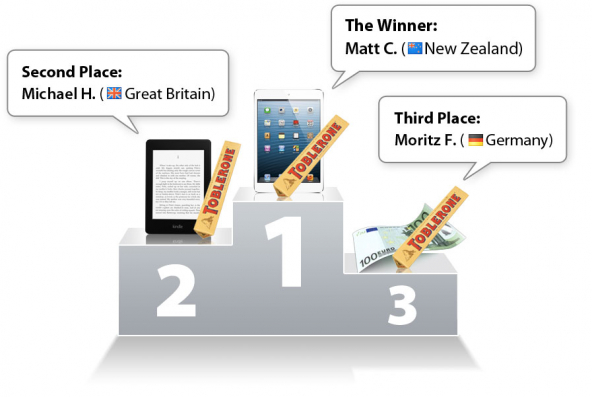 All the winners have been contacted personally and the prizes are on their way!
You can still win as well with these 3 simple steps!
The Contest is over - but our Affiliate Program continues to pay out huge commissions on a recurring basis!
What's been working extremely well in January, and accounted for at least a few of the winners, was the introduction of our regular Live Webinars. Cold traffic can be sent to a highly converting webinar signup page.
What's in it for you?
All you need to do is send traffic to the webinar signup page with your affiliate link - and you'll get the commission for anyone who then buys during or after our webinar!
Step 1 - Signup as an Affiliate
Signup easily on this page to get your free SwissMadeMarketing Affiliate Account: click here.
Step 2 - Copy your Affiliate ID
Add your Affiliate ID to the end of our Webinar Singup Page Link:
http://swissmademarketing.com/webinar/secockpit/#a_aid=ADD_YOUR_AFFILIATE_ID_HERE

Step 3 - Spread this Link
Send this link to your email list, or post it on facebook or tweet it! It's really as simple as that.
The next Webinar is on Thursday, 21st February 12 Noon Eastern. The signup page will always get updated with the next webinar date.

Promote once, earn forever
Remember, we have a lifetime tracking system - so any customer you refer will be assigned to you for all recurring and future purchases. Signup today as a SwissMadeMarketing Affiliate and take advantage of our Webinars to win new customers and earn recurring commissions.
If you have any questions/comments/feedback - please let us know!