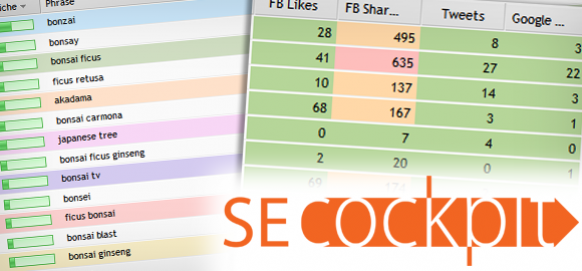 We are constantly working on improving SECockpit and many of the changes we make are "under the hood" and of a nature that you might not immediately notice when using the tool. Recently though, we've rolled out a few significant changes that will change your experience with the tool. Here they are:
Social Signals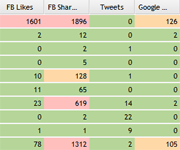 When you double-click any keyword in a keyword list, you'll now see several new columns in the detailed analysis view. Next to the SEO metrics like mozRank, authority values and backlink numbers, there are now also social metrics displayed for each keyword. These include:
FB Likes
The number of facebook likes each of the top ranking pages has received (this usually happens via a like-button directly placed on the page).
FB Shares
The number of times each page has been shared on facebook. This is when someone actively shares the URL in their facebook timeline and is a "stronger" social signal than just a like.
Tweets
The number of messages on twitter that link to each of the pages. While it's unclear whether Google takes social activity on facebook into account for rankings, there have been several case studies showing that tweets can improve rankings.
Google +1
The number of +1 each of the pages has received. This is Google's own social signal and it influences rankings.
Tagging Updates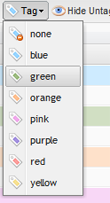 It's always been an option to tag keywords in a keyword list in SECockpit. You can do so to either mark specific keywords manually or to keep track of your keyword's sources, when you expand a keyword several times. With the latest update, applied tags will not only show up in the "tag" column, they will also highlight the entire row of data.
With this change, tagging becomes much more visually striking and tags will help you more effectively keep track of individual keywords or small groups of keywords in even the largest keyword lists.
Dig Levels

When you start a new keyword search and pick the keyword source, you'll see a change for the "Related Search Terms" option:
Just like before, there are two choices for gathering related search terms, but the interface has changed and the tool-tip explanation has been updated. You can either do a "Simple Search", which will grab the eight related search terms from the bottom of the results page for the seed keyword. These are usually closely related, long-tail keywords.
Alternatively, you can do a "Recursive Search", which will grab the eight related keywords for the seed keyword as well as the related search terms for each of those eight new keywords. This results in a total of 64 new keywords (can sometimes be less, due to duplicates), which are also long-tail type terms, but can sometimes become somewhat unrelated to your seed keyword.
SEO Service Change
Finally, we've made a small change in our SEO Service, which was surprisingly well received when we launched it early this year: originally, you could choose to get one link, two links or one main link and two secondary links in your article. We've removed the last option, so that now, it's simply a choice between one or two links.
We've had to make this change because not all of the networks we submit to allow us to have two secondary links, without messing up the anchor text. We had to work around this, resulting the articles being published to some networks with all three links and to others with only two of the links.
We decided that we can serve you better by offering either one or two links, so we don't have to work around issues and can deliver exactly what you'd expect.
That's all for our latest round of updates. If you have any questions, please leave a comment below!